APV Corporation Celebrates Successful Next-Gen Ford Ranger Multi-Year Australian Test Program
Posted by Australian Performance Vehicles Pty Ltd on 13 September 2022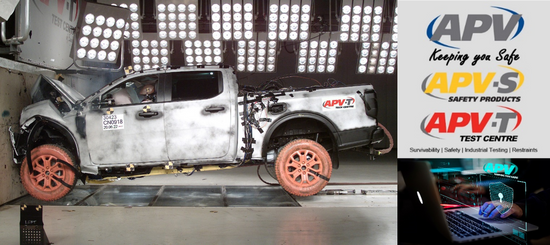 25th August 2022, Melbourne – APV Corporation's (APV) vision is to partner with Australia's Automotive and Transport Industry in support of their research, virtual and physical testing, evaluation and certification requirements. The company achieves this by collaborating with their engineering and development teams with access to world-class test and evaluation services and facilities.
This is exemplified by APV's latest test program for Ford Australia, marking the successful completion of the most complex multiyear vehicle development crash test and evaluation program ever undertaken in Australia. The program was undertaken in collaboration with teams at Ford's test facilities at Lara, including the testing and evaluation of prototype and development vehicles, and validation of final assembly vehicles. This culminated in final validation programs against a range of international standards to assure high levels of vehicle safety and quality.
"At APV we crash tested 22 vehicles and monitored the performance of the safety management systems and assessment of injury levels. This included the monitoring of the performance of the safety management system, vehicle sensors, accelerometers, airbag and restraint systems through to the fuel systems being shut down, as designed, during the crash event. Engineering data being sent back to the Ford engineering team was used to correlate test results with their engineering models to confirm that each vehicle met the safety and survivability requirements established by the design team," said Harry Hickling, Managing Director of APV Corporation.
Many of the tests required more than 200 channels of data, recording at sample rates up to 20,000 samples per second for post-crash analysis, with 18 high-speed, high-definition cameras recording each test from over, under, outside and inside the vehicles. Metrology level scanning of the vehicles both pre- and post-crash enabled the Ford engineering team to assess deformation in critical areas of the vehicles and compare them to other simulation results. Investment by APV into new equipment, technology and resources exceeded $3m AUD with specialised equipment ordered from various parts of the world to ensure Ford's high standards and expectations were met.
Planning for the program started in 2019 to allow APV to expand its test capabilities and achieve benchmarks for vehicle preparation, test execution and post-test analysis for Ford Ranger development vehicles. A capacity of no less than one vehicle crash test per week had to be met against some of the most complex test conditions ever undertaken in Australia.
Investment was made in capability upgrades and secondment of additional personnel for the program by APV. The APV Test Lab, Ford Campbellfield and the Ford Proving Ground collaborated closely through the program often sharing resources and test equipment.
Ensuring the successful, on-time completion of all testing to enable launch milestones to be met required dedicated collaboration across the entire design, manufacturing and supply chain to tackle any challenges as they arose – especially during a period of COVID-19 and international supply chain challenges.
"The Next-Gen Ford Ranger sets a new bar in vehicle safety within its class, and APV is proud to have collaborated closely with Ford to bring their vision to reality. Certainly, a story that we can all be proud off. There is a raft of exciting projects ahead to support the vibrant automotive and transport industry in Australia, with the release of new vehicles, accessories, and aftermarket products being developed by Australian industry."
Author:
Australian Performance Vehicles Pty Ltd